Nursery Notice Board
Notices
Nursery Panto
On December 4th, Nursery will be visited by The Littlest

Elf

.


Strawberries

: There will only be one showing in the morning so it means that if your child normally attends Nursery in the afternoon, you can still bring them in for the show. You will need to collect them after the show and return them to afternoon nursery at their normal time. Please bring them in for 8.45am and collect them at 10.15am.



Wriggly Nativity!
You will have no doubt heard from your children, that the rehearsals for our Nativity Show and now underway. Please check your child's bag to see what part they have been allocated and what clothes they will need to bring in for the show. You can use the following link to access the songs and words to practice at home. https://www.belmontprimaryschool.org.uk/The-Nativity



Cold weather
Now that the weather is colder, please make sure the children bring in

warm

outerwear with them everyday, including a warm coat, gloves and scarf.


Library
The class will be going to the library this week. Please bring book bags in on

Wednesday

. (We will then go to the Library on Thursday)


Rice cakes and breadsticks
We have run out of rice cakes and breadsticks. If you are able to, we would

appreciate

donations of these items. Thank you!


If you were not able to join us for the Home School Partnership Evening

, here is a copy of the

presentation
Tapestry
For information on setting up your Tapestry account, you can watch the following video:
//www.youtube.com/embed/n7ROkDnb4I0#t=0.5
Learning next week:
This will be where you will find the children's learning for the week.
| | |
| --- | --- |
| Book(s) of the Week | Rhyme(s) of the Week |
| | |
In class we will be:
Listening to the story of the week and answering key questions
Learning about colours
Talking about friendship and how to be kind to others
Learning about initial sounds in words
Singing the Rhyme of the week (with actions) and playing phonics games based on this rhyme
Learning about the Number 2
To reinforce your child's learning you could:
Personal, social and emotional development
Play a simple turn taking game at home
Teach

and practise putting their coat on independently (using the 'coat flip' technique if needed)

Teach and practise doing the zip on their coat

Talk about how we can be kind to others (including sharing and turn taking)
Literacy/phonics
Go

on a listening walk where you identify and describe the different sounds in the environment

Take a bus/ train journey and talk about the sounds you can hear (like the sounds in the rhyme 'the wheels on the bus')
Maths
Make a 'two' tray- put various items on a tray, making sure to only have

two

of each item (e.g. two bananas, two pencils, two sticks etc)

Look for the numerals in the environment (e.g. on buses, doors, in the supermarket)
Understanding the world
Look for and talk about signs of Autumn/ winter
(e.g. leaves changing colour, the weather becoming colder, seasonal fruit & vegetables)

Talk about special festivals/ celebrations and how you or others celebrate these
Expressive Arts & Design
Sing Nursery Rhymes
Practice singing the Nativity songs (see above for the link to the songs)
Talk about the colour of different objects you see/ are using e.g. clothes, food, animals, toys
Make a colourful picture!
Singing Nursery Rhymes
In school we use Little Wandle's Rhyme Time activities. They have made a video of each rhyme which you can view on their parent page.

So far we have learnt:
Incy Wincy Spider
Twinkle Twinkle Little Star
The Wheels on the Bus
Learning Trees
Please take a look at the Nursery Learning Tree. This is an overview of the learning that the children will doing this term.
Early Years Pupil Premium (EYPP)
Please find below information from Hounslow about Early Years Pupil Premium (EYPP)...:
EYPP is extra Government money to boost your three or four year old's early learning. Your child's childcare provider or school nursery could get up to £353.40 per year to help with your child's education. Your childcare provider or school will get the EYPP payment paid to them.
Your child could enjoy
E

xciting new learning activities

Extra equipment to help with learning

Toys, books and equipment to use at home to help them learn

One to one or small group sessions

Widening their life experiences.
It helps your child to:
Be ready for school

Develop the language skills that will give them a good start

De

velop self-confidence and social skills

Keep healthy and active
Your childcare provider or school nursery will work with you on how best to spend the money
For more information, please click on the following link
Names on clothes
Please name ALL of your child's uniform, including coats and shoes. As I'm sure you are aware, the children do have a tendency to leave jumpers and cardigans around. If they are not named, it becomes very difficult for us to reunite lost items with the correct child.
Home School Communication Book
This book is intended to be an additional way for parents and school staff to communicate information. If you have something that you would like to tell us, please write in the Home School Book and hand it to the member of staff who is on the gate. We will read your comments and reply either in writing or in person. Please note that this book is not for communication about going home arrangements.
Drinks and Snacks
We encourage the children to drink water throughout the day. Please can children bring a bottle of water with their name on every day. These will be stored in the classroom so that the children can help themselves throughout the day. You can also order milk. Please see website for more details.
To reinforce our commitment to healthy eating, we like to be able to offer the children fruit/vegetables and bread sticks or rice cakes as a snack during their session. We would very much appreciate donations and will let you know when to bring these in at the beginning of September.
We are a no nuts school. We have no nuts in our school dinners and children are not permitted to have products with nuts or sesame seeds, as some children have serious allergies to these foods. Please be mindful of all snacks that you send into school that may contain nuts that are not obvious.
It is essential that you inform us of any allergies that your child may have.
Reading for Pleasure Books for class
As part of our focus on reading in school, we would like to develop the lending library of books within each class. This will enable the children to foster a passion and love of reading at Belmont and ensure that they have access to high quality texts.
Please find links to two book lists that have a variety of books that we would love to have in class. Once a book has been donated to the class we will add a tick to show we now have it. Please check the list to ensure that the book that you would like to donate is one that we don't already have.
The books come from the Recommended Books for Nursery List which can be found here.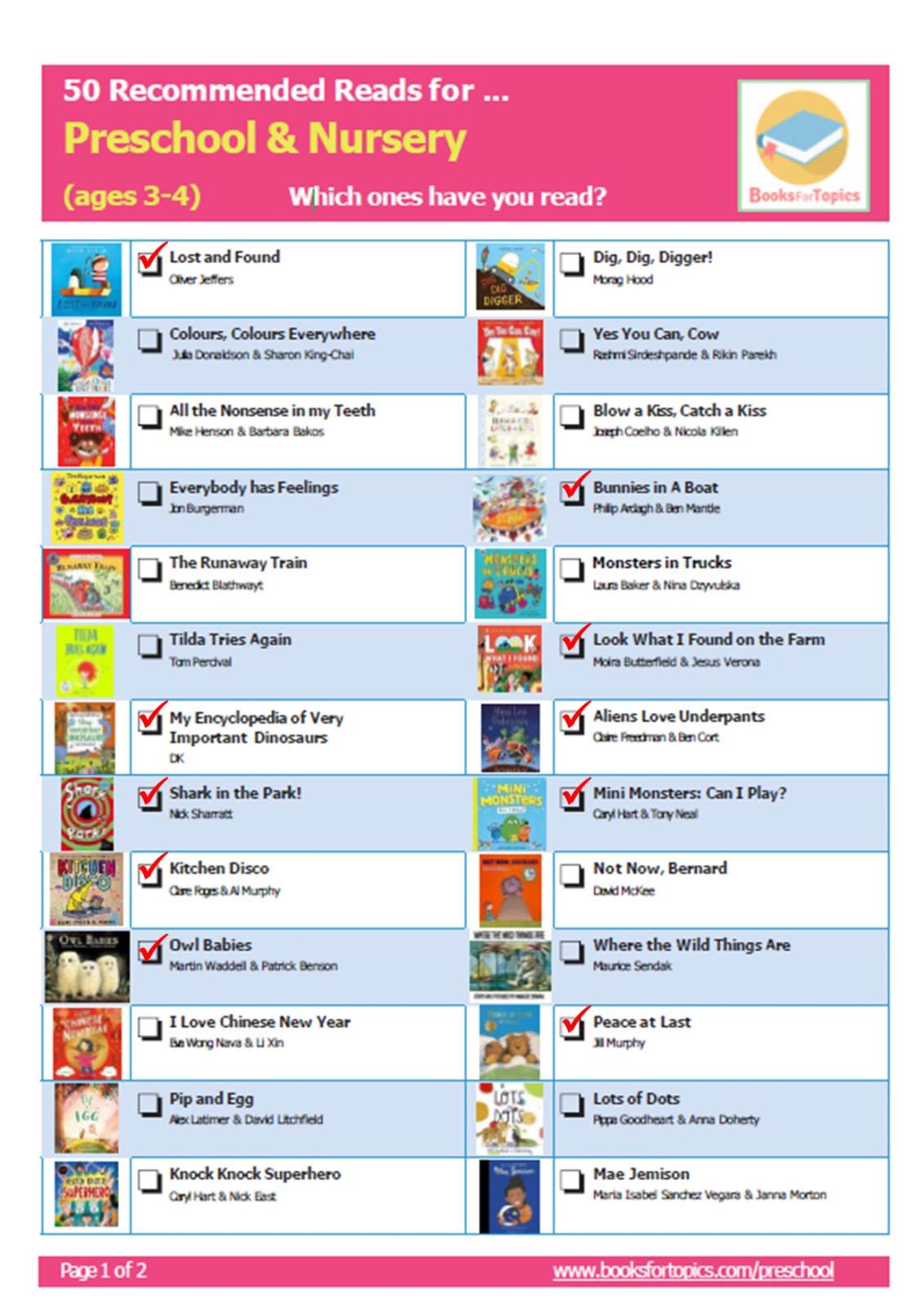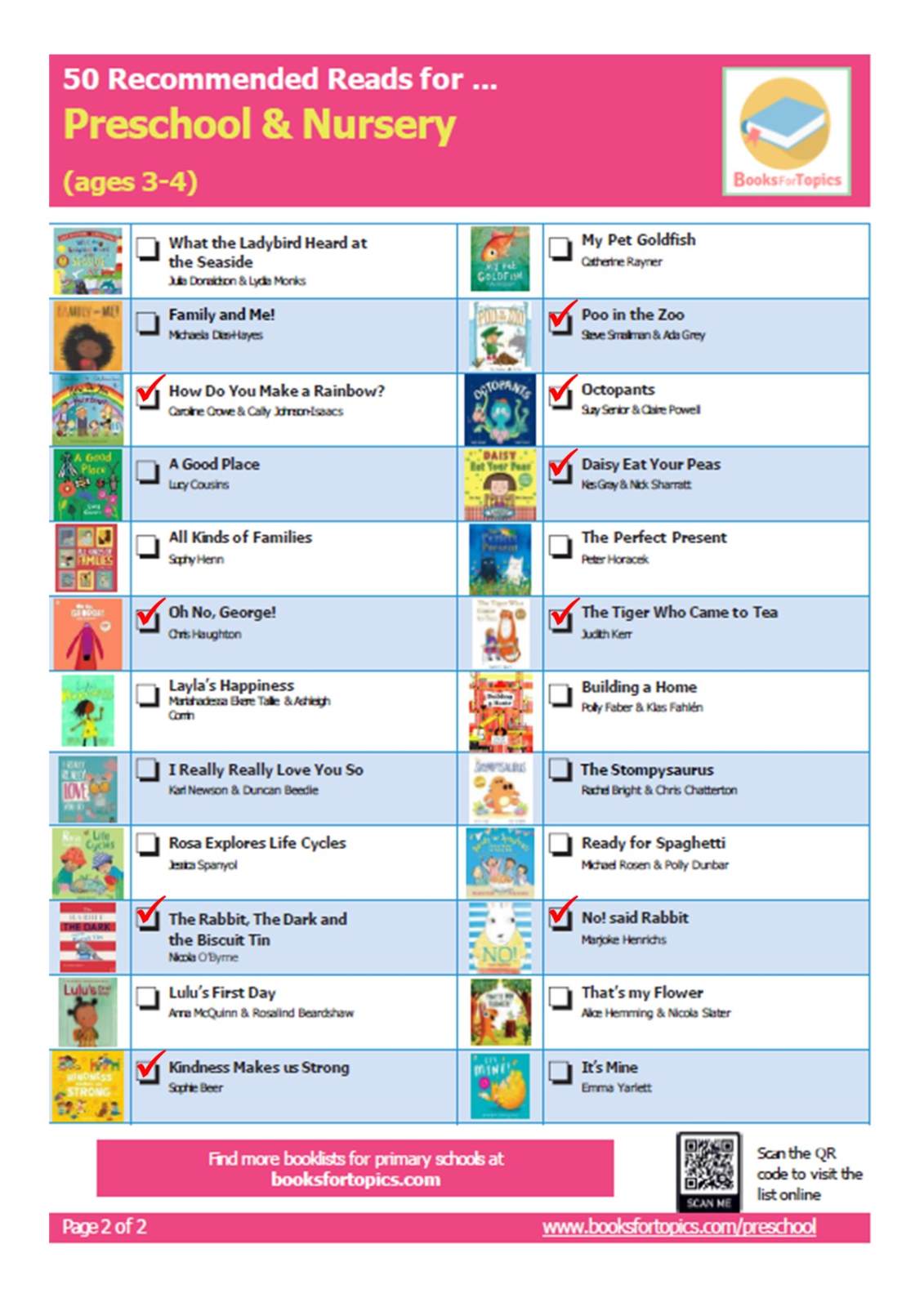 Reading at home
Each child will need to bring their book bag in ready for our library day.
Please can you return the library book inside the book bag the day before their Library day.
| | | |
| --- | --- | --- |
| | Return books on: | Library Day: |
| Grapes | | |
| Blueberries | | |
| Strawberries | | |
Reading at Belmont
A prime focus for us is to instil and develop a love of reading for all learners. In order to encourage your child to become a lifelong reader, it is important that they learn to Read for Pleasure. As such, the children have access to high quality books both in class and in the library. The children choose two books each week from a selection of story and fact books. This is at the heart of our commitment to encouraging our children to become lifelong readers. These books come home with the children on their library day and must be returned before another can be borrowed.
Please remember that you shouldn't expect your child to read these books alone. Read the books to or with them. Discuss the pictures, enjoy the story, predict what might happen next, use different voices for the characters, and explore the facts in a non-fiction book. The main thing is that everyone has lots of fun!
There are two types of reading book that your child will have access to at home:
A Reading for Pleasure sharing book. Children will not be able to read this on their own. This book is for you to both read and enjoy together.
A library book. As above, please spend time with your child reading and discussing the book together.
Additional Information
Nursery Staff
Nursery Teacher: Miss Percival
Early Years Practitioners: Mrs Colgan and Miss Buckles
BSHA Class Reps
Grapes:
Blueberries:
Strawberries:
Pick up and Drop off routine
When you drop off your child at the beginning of the session, please can you drop them at the gate and go.
For pick up, we would like try a different way of collecting the children as the playground gets very busy. Please stand back away from the door and we will call your child when we see you. The children find it hard to see their adult if there is a big crowd at the bottom of the ramp. Once you have picked up, please leave the playground as it does get very busy.
Thank you for all your support with this.
Visible Learning
As you may be aware, the school is engaged in the Visible Learning. As part of this process all staff have undertaken projects within their year groups. The characteristics of effective learning are a key element in the early year's foundation stage. They detail the ways in which children should be learning from their environment, experiences and activities. Children will be displaying the characteristics of effective learning every day. We would like the children to become more familiar with these so have created alien characters for each characteristic.
Characteristics of Effective Learning Aliens
You can support us with the project by:
1. Using the language of learning with the children. For instance, rather than asking "what work have you done?" you could ask "what have you learnt?"
2. Talking to the children at the beginning of the week about the learning that we will be focusing on. This is always on the weekly letter that comes home.
3. When the children are engaged in learning outside of school, make this explicit to the children. For instance, "you have been learning how to write your name."
4. Become familiar with the alien characters and encourage the children to think about which characteristics they have been using in their learning. For example, "I loved how you kept on trying to learn to ride your bike. You have been a real Trying Trip."