F
Year Four Notice Board
Class Reading Books for Autumn Term
Notices:
IMPORTANT!

Thursday 7th December - trip to see 'Cinderella' - please send in a small snack that your child can easily carry in their pocket for the panto. They will also carry their water bottles.
Swimming - Please make sure your child's clothes are labelled and that shoes with laces can be tied independently.
- If your child is not swimming e.g. they are not well enough, please send a note in to Mrs Fanshawe or Miss Abdullah
Glue sticks - Many of the children do not have glue sticks. Please send one in for your child to use.
This noticeboard will be updated on Tuesday afternoons to share homework and keep you updated with life in Year 4.
Teachers:
Support Staff
Dates for the diary
Thursday 7th December - Trip to The Lyric Theatre to see 'Cinderella'
Thursday 14th December - Trip to The Tabard Theatre to see 'The Secret Garden'
- Please remember the children should have a healthy snack for morning playtime.
Water Bottles
Please ensure that your child brings a named water bottle to school with them each day so that they can hydrate regularly throughout the day.
Reading for Pleasure books for class
As part of our focus on reading in school, we would like to develop the lending library of books within each class. This will enable the children to foster a passion and love of reading at Belmont and ensure that they have access to high quality texts.
Please find links to the book list that has a variety of books that we would love to have in class. Once a book has been donated to the class we will add a tick to show we now have it. Please check the list to ensure that the book that you would like to donate is one that we don't already have.
These books will be stamped to show who has generously donated them and shared with all the class.
The books come from the Recommended Books for Year 4 List which can be found below.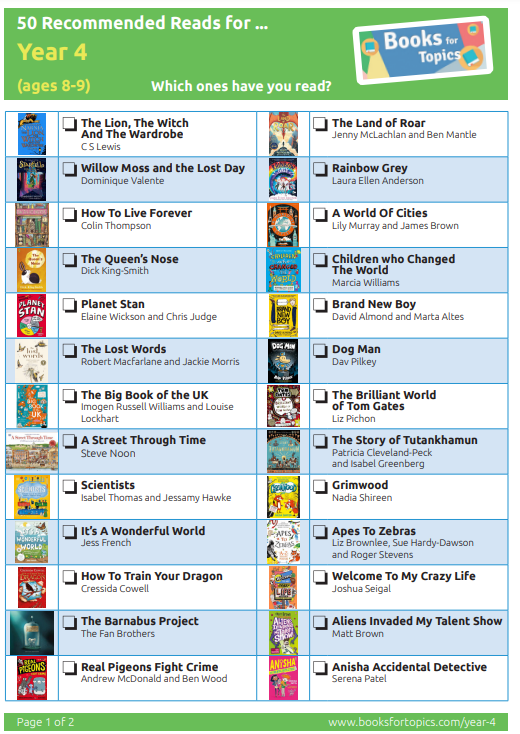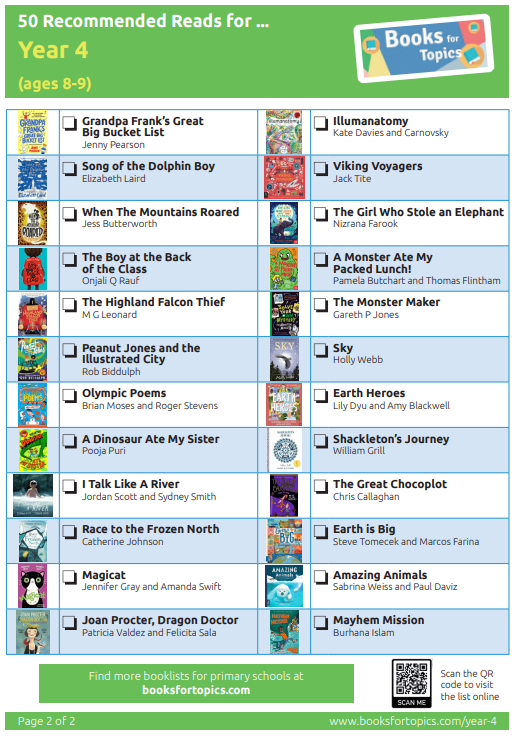 Love reading 4 schools (Year 4)
Autumn term
Our topic this term is Why Britain?
The below list is part of an initiative called Word Aware that we are using in school. We thought it would be helpful to share this list with you so that you can use some of these words at home when discussing the topic. If your child speaks a different language at home, it would be helpful to discuss and translate these words using your home language. We may add to this list during the topic as new words are introduced.
Word Aware - Why Britain?
Y4 Summer Learning Tree
Knowledge Organisers
Further information about the learning in history and geography is available on our new Knowledge Organisers. These are available on the Maple and Rowan Google Classrooms in the Classwork tab. The link will be updated when the children have joined their new Google classroom.
Maple Google Classroom Rowan Google Classroom
Handwriting
As you may be aware Belmont uses a cursive handwriting scheme for those children who can consistently form all non-cursive letters correctly.
Here is a link to the handwriting guidelines to enable you to support your children practising letter formation at home.
Belmont Handwriting Guidelines
PE days
Rowan and Maple class on Monday. Children are to come to school in full PE kit .
Rowan and Maple class swimming on Tuesday. Please wear school uniform and bring your swimming kit in a bag.
Weekly Routines
Monday

Bring in Reading Record.

Rowan and Maple Indoor PE.

Tuesday

Bring in homework.

Swimming

Wednesday

French - Maple and Rowan

Thursday

Bring in ukulele for tuning

Friday
Calendar/ Key dates
Home Learning
For further information about Home Learning and ideas on how to support your child please click here.
Reading

Daily (15-20 mins)

Please ensure that all books are recorded in the reading record along with the dates that reading has taken place. Please sign/initial these entries. Comments about the book and your child's reading are welcomed. Three comments per week is ideal.

Reading records are checked on Monday, however; reading books can be changed on any day.

Children may borrow books from the classroom library and the Junior Library.

Please note that children are responsible for changing their own books.

Grammar & Punctuation

Grammar, Punctuation & Spelling book

Spelling

The words are listed below. These words are set on a Tuesday for a spelling dictation task the following Tuesday.

Maths

This will be set on Tuesday to be completed by the following Tuesday. The task is available on Google Classroom.

Times Tables

Children will be tested weekly, in school, on the level they have been given for homework. These websites will help make learning at home fun and maximise results.


Times Tables Challenges can be printed here. Timestables.co.uk Times Tables Rock Stars

Creative Home Learning

Details will be on Google Classroom shortly.
This week:
Grammar & Punctuation

Page 29 Staying in the Same Tense

Page 62 Questions 1 and 2, Punctuating Speech with ! or ?

Page 74 Questions 1 and 2, Prefixes 'sub', 'super' and 'inter'

Maths

Login to google classroom

Spellings



Y4 words

Spelling Rule

Prefixes 'sub' , 'super' and 'inter'.

continue

submerge

enough

subheading

eighth

superpower

island

supersede

position

interlock
| | |
| --- | --- |
| Learning in school this week: | |
| English | Historical text - Plan a story |
| Maths | Multiplication/Negative numbers/Problem solving |
| Learning next week: | |
| English | Historical text- Write a story |
| Maths | Consolidation of units |
French
French homework is optional but we recommend children use Year 4's French Google Classroom, Linguascope and Belmont's French Website to consolidate what has been taught in class.
French Google Classroom
All year 4 children have be invited to their French Google classroom where they can find French tasks and activities.
Belmont French Website
Go to Belmont's French website to find out what we have been doing in class and for extra activities and videos. The French website is updated regularly. Children must login to their Belmont Google account to access the website.
Linguascope
We recommend children use Linguascope regularly to learn French and other languages. The Linguascope link and log in details can be found in year 4's French Google classroom.